JOHN LENNON DAY IN LIVERPOOL
7 OCTOBER 2000
---
Well LiveApool Tours
have done it again folks! On Saturday 7 October 2000 Jackie, Jane and Shuji took us all on our very own tour of John's Liverpool. It was raining first thing in the morning but it looked as though it was going to brighten up and not spoil our day - it didn't, the rain kept off and we had a fabulous day amongst friends, celebrating the birthday of a much loved man.
We met at The Adelphi Hotel at 11.15 a.m. and it was lovely to see some familiar faces but equally lovely to see some new faces who I'm sure will be back again and again. At 11.30 a.m. we set off on our journey of remembering John on what would have been his 60th birthday.
Boarding the bus Jane handed everyone a copy of the Agenda for the day. Our first stop, as ever, was the Registry Office in Mount Pleasant where not only John and Cynthia had been married, but John's parents Julia and Freddie. We also visited the hospital where John was born all those years ago, sadly the building is no longer a hospital but it was encouraging to find that it now houses students and this is far preferable to the building being demolished which is what we all thought might happen once it ceased being a working hospital now. It was strange to think that some unknowing student was probably now living in the room where one of this centuries most famous men was born!!! Life is strange.
We meandered our way through Liverpool and stopped at Penny Lane, Newcastle Road (which was John's first home) with Jackie pointing out various interesting Beatle/John sites as we made our way to Woolton Village where our first stop was St. Peter's Church Hall, famed for the place where John first met Paul on 6 July 1957. At the Hall we were greeted by ladies bearing tea and coffee cups, as well as some lovely home made Scones and biscuits. A surprise guest joined us in the guise of Len Garry, Quarryman extraordinaire!! Everyone was so pleased to see Len and it gave a lot of people the opportunity to speak to him for the first time. In our group we had a wonderful happy crowd from the Revolution Fan Club in Brazil and Marco and his people had a wonderful time talking to Len, asking questions and getting answers too! The tea and coffee was most welcome and during our time there Jackie took small groups of people across the road to look at the Eleanor Rigby grave in the churchyard adjacent to St. Peter's Church. As we boarded the bus again Marco told Jackie and I a secret - he told us that he had never been in a churchyard before, not even back home in Brazil! See, these Beatles do strange and wonderful things to people like helping them get over fears.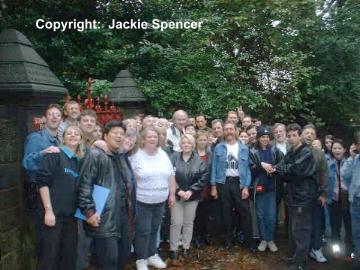 From there we went around to look at Strawberry Field and to check out the now returned gates since they were stolen earlier this year. Jackie took a group photo outside the gates and this and other photos will be posted to this page in a few days. From S/Field we set off again around another corner and stopped at Aunt Mimi's home in Menlove Avenue where John had lived. To our great surprise we found the house was being renovated back to its original state for the making of an NBC film about John's life which is to be shown in Liverpool on 7 December 2000 before it goes to the USA. The gates had been changed to the old wooden style and painted in the 1950s colours of green and cream. The windows had been painted the same and leaded windows had been added. Filming at the house will begin on Tuesday 10 October. From Menlove Jackie took us on a walk tour to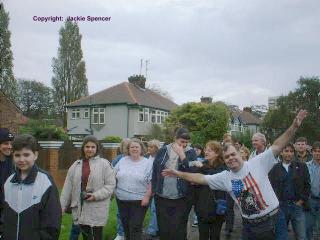 Vale Road where she showed everyone the former homes of Pete Shotton, Nigel Whalley and Ivan Vaughan. We were certainly being shown the John story from the very beginning. These places are not often visited by fans because it's difficult to see all of these sites in one day - a guided tour is definitely in order!
One of the other homes not many people get to see is 1 Blomfield Road where John's sisters Julia and Jackie had lived. This is surprisingly a lovely house with pretty gardens.
We eventually made our way back into the city centre where we headed for The Philharmonic Pub in Hope Street. This was a pub that John frequented quite a lot in the early days and
when someone once asked him what was the price of fame he replied "Not being able to have a pint in the Phil". Here we all sat down in the very comfortable back lounge and had a splendid lunch of vegetable curry, chilli con carne, salad, rice, sandwiches, onion rings and wonderful garlic bread!! By the time we reached the Phil everyone was starving and it was great to find such wonderful food awaiting us. During lunch another surprise guest arrived to see everyone - Uncle Charlie Lennon! Charlie received wild applause as he entered the room on the arm of Shuji who had been to collect him from his home. He looked very well and happy to be there as everyone clamered to meet him.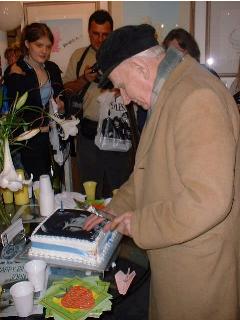 Back on the bus after lunch and we set off to take a look down Mathew Street on our way to the Mathew Street Gallery where we were greeted by Melissa Story (Gallery Manager), Anne-Marie and Howard. As people walked into the gallery there were gasps of excitement as people came upon a wonderful birthday cake that Melissa had had made especially for our reception. The square cake was adorned by a wonderful early photograph of John that had been lasered onto the top of the cake - ah ha! now the dilemna was "who was going to be brave enough to cut that cake" not me for one!! I've never seen a cake that had its photograph taken so many times before - it was truly beautiful. Special thanks to Melissa, Anne-Marie and Howard for a wonderful evening reception of drinks, nibbles, cake and even a lottery which was, incidentally, won by one of our Brazilian friends who was overcome by the bag of John Lennon goodies provided by the Gallery.
Uncle Charlie Lennon cutting the birthday cake at the Mathew Street Gallery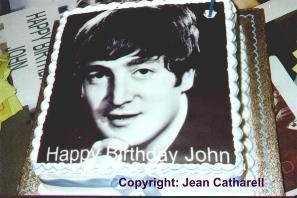 The cake!! Fab eh?
From the Gallery people drifted away to their hotels to prepare for the next event of the day which was a Ferry Cruise on the Mersey with music provided by Brazilian band "Comitatus".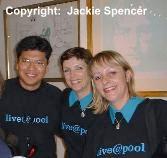 After a rest day on Sunday (8 October) the tour group gathered together again at the Adelphi Hotel on Monday 9 October to make their way to the tree planting ceremony in the city centre. From there we all went to Ye Cracke (an old Lennon haunt) for lunch where we met up with Beatle Tour Guide Eddie "The Walrus" Porter. After lunch we made our way to the Art College where Jackie had arranged for everyone to be able to see and sit in the Lecture Theatre where once John and Cynthia has studied all those years ago. In the Lecture Theatre Eddie Porter told the story of John, Cynthia and Stu's life at the art college and had everyone hysterical when him and Shuji did their "double act" - it was hilarious. From there many of the group had expressed an interest in seeing the very grand Anglican Cathedral, one of Liverpool's two Cathedrals (yes, we really do have one to spare!). Everyone was in awe of this building, it really is magnificent and well worth a visit if you've not been there before.
The group consisted of people from all parts of the world - Japan, USA, Holland, Brazil, Australia, England and many part of the UK. It was wonderful to be part of a group of people who felt the need to have to spend John's birthday in Liverpool - no better place to be! Thanks to everyone who came and we hope you enjoyed yourself so much that you will return again next year.
---
A special thanks to Jackie, Jane and Shuji for their hospitality during the tour.
They worked very hard to ensure everything was just right, they looked after everyone and went way beyond the call of duty. This was a very professional tour in line with every other "Beatle Birthday Tour" they've conducted during the past couple of years. You won't get it any better than this folks so why
not give it a try in the near future.
Well done everyone, see you again next year.