Clubmoor Conservative Club
Saturday 16 June 2001
---
HAPPY BIRTHDAY PAUL!!!!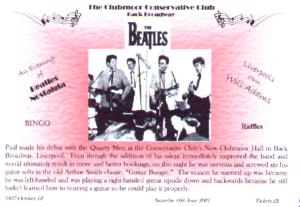 Ticket for the event
This year's Macca birthday celebrations got underway on Saturday 16 June in weather that was predicted to be rain, rain and more rain!!! However, we managed to stay dry in between the showers and what followed was a day not to be missed. If you are reading this account and wasn't there then you missed something REALLY special this year and it will teach you a lesson to book early for next year!! Believe me, it will only get better from here on in folks!
As usual LiveApool Tours showed everyone how it can be done, how people travelling to Liverpool looking for the right Beatle event can have a special day out with friends who are like minded.
We gathered at the Albert Dock for an 11.00 a.m. start and were greeted by Jane, Jackie and Shuji. The bus left about 11.15 a.m. and off we went to explore "Macca's Liverpool" to celebrate what will be Paul's 59th birthday on 18 June. The other people on the bus were from various parts of the world. There was Ricky and Laurie from Utah, Sheryl from Michigan, some Australians, a few Japanese and lots of Brits from various parts of the country. A great crowd to spend the day with that also included special guests Rod Davis and Colin Hanton from the original Quarrymen.
As the bus meandered through Liverpool city centre and eventually out towards the city boundaries Jackie talked about Paul's birth and life in Liverpool. The tour took in Walton Hospital where he was born and the first house he ever lived in as a baby. There were people on the tour who had never been to Liverpool before and to them this visit was fulfilling a dream for them, a visit to Mecca as one man described it, which took 35 years to achieve. Most people were already au fait with the Beatles history but they always come along anyway because it's such good fun and there is always something different to see.
One of the places we saw on this tour was The Aintree Institute and we were able to go inside on this visit. For me it brought back many memories of the 60s when I used to go there to see lots of Mersey Beat bands. The Aintree "I" has not changed, it smelled musty but the magic was still there. From there we went to Aintree Racecourse where Jackie told everyone about the time Paul bought his father Jim a racehorse (Drake's Drum).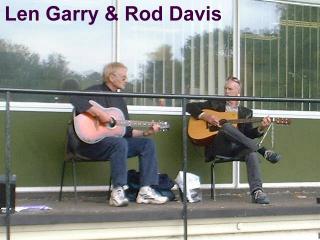 Onward we went until we reached our lunch destination - Calderstones Park - the place where Paul performed the opening ceremony of the Linda McCartney Play Area a couple of years ago, and where he planted a tree in Linda's honour.
Jane was there to greet us and lunch was wonderful - a full "vegetarian" buffet that Paul would have been proud of. We were joined here by Liverpool Echo journalist Peter Grant who came along to tell us about his recent interview with Paul at MPL. You can read this interview in full on the Echo's website.
Jackie had arranged for a couple of the Jacaranda musicians to come along and play some Beatle music for everyone - hello to Col and Stuey. They certainly got everyone singing along. We picked up our food and went out into the garden because the sun came out - but we ended up under the canopy of the stage area where years ago they used to hold outdoor concerts. We managed to get Rod Davis up to do a few songs and when Len Garry arrived he joined Rod on stage.
We spent a long time at Calderstones Park because we were having such a great time - I seem to remember it was just the same last year too! As time moved on we were joined by others who heard the music and came in to see what was happening. I wonder if they realised that the guys playing up on the stage were John Lennon's old band mates!!!
From the park we boarded the bus again for the part of the tour that would take us to St. Peter's Church (where a wedding was taking place), the Church Hall, Forthlin Road, Strawberry Fields (not strictly a Paul place but you can't be in Woolton and not visit SF!), Penny Lane and other places in Macca history. Rod Davis took the mic for a short time to regale us with stories about venues the Quarrymen had played and their gigs at the Cavern Club - nothing like getting your information directly from the guys who were actually there.
Once back in the city centre everyone left the bus to do their own thing for a couple of hours and then everyone was picked up again and taken to Clubmoor Conservative Club where we were about the make history all over again. In 1957 this was the club where Paul played his first gig with the Quarrymen and tonight they would be back (not all of them of course) for the first time since then. Myth has it that Paul played Guitar Boogie Shuffle that night and fluffed the solo - we knew it was going to be put right this night by Rod!!! Brave man!!
On arrival at the club we were welcomed by Julian and his committee members. I have to say here that the people at the club were nothing more than gracious to Jackie and I when we went to see them about hosting Macca's birthday there. They couldn't do enough for us and came up with some great ideas. They had t-shirts and key rings made especially for the evening, and I think they sold out too! Everyone was wonderful and it was lovely to see that some people DON'T relish having some sort of link to the Beatles and don't mind everyone knowing it either!!!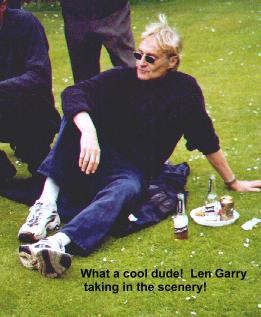 Now if you've never been to a working man's club in the UK then this was certainly going to be an experience for our foreign friends! The evening began with Bingo (yes Bingo!). This is a strange phenomenon for some English people so it was going to be interesting to see how the Japanese viewed it. We were not to find out however, they disappointed us all in not wanting to play! Rod and I swapped stories about Bingo (no, we weren't bored, honestly!) and he told me about when he was at University and they used to call the numbers all wrong, much to the annoyance of those playing, i.e., "all the twos - forty nine!" and from me "four and two - six!" Happy days.....
On to the music. Local lad Will Adams entertained us with all sorts of songs, including some Beatle ones too!
Just before they went on stage I had a conversation with Rod and Colin about the missing Quarrymen members (Eric was on holiday and Pete couldn't make the date) and it was suggested that they have some volunteers to make up the numbers. They finally went on stage and did their opening number and on introducing the second song I suddenly heard Rod say "and now please welcome our two guest Quarrymen Jean and Shuji! So now I have something to tell my grandchildren (if I had any) that I once played with the Quarrymen as a washboard player - ha ha!!! It was quite difficult trying to keep Pete's thimbles on my small fingers but I have to say it was fun. Rod remarked later that next time there was a Quarrymen reunion it's likely that around 200 people will turn up because so many people were on stage with them that evening :) Also making his debut that evening was John Halliday who many of you will know is the lucky guy who lives in Paul's former home in Forthlin Road. John is in the pic on the left below.
All credit to Rod for a great idea though. He made a lot of people very happy that night. Throughout their spot they asked for volunteers to play the washboard and tea chest bass. I can tell you, there was no shortage of volunteers - who is going to give up the opportunity to play with the Quarrymen - not many! Everyone was so excited and even Jackie did her spot towards the end of the night and also played washboard, and so did our friend John Halliday from Forthlin Road. Check back in a day or so and more pix will be here for you to see. Don't forget!

It's always great to see the Quarrymen play and I don't think they seriously realise their place in musical history. They breeze through the songs like they've been doing it for years now (well I guess they have!) and it's always great to hear the songs from their time. Len still does a brilliant version of "Twenty Flight Rock" and Lonnie Donegan would be proud to hear "Rock Island Line". It's always a pleasure being around them and they have their own charisma. Rod did a brilliant rendition of Guitar Boogie Shuffle and got it right too! That's one over on Macca, Rod.... Colin, well what can you say about Colin, he did his bit, told a few stories to the people eagerly listening and looked like he was having a good time. On this particular evening they dressed in almost the same style of attire as 40 years ago. Len looked dashing in his long white coat, white shirt and boot lace tie, they all looked the part. Everyone had a brilliant time and we must do it again soon.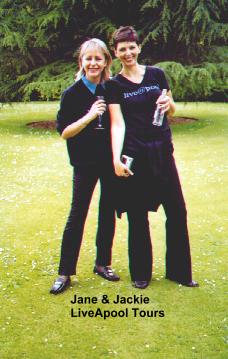 All in all another very successful evening for LiveApool Tours. Thanks to Jackie, Jane, Shuji and everyone at Clubmoor Conservative Club for making it possible and of course to Macca for giving us a reason to rock 'n roll.
Happy birthday Macca.