Liverpool Remembers John
| | | |
| --- | --- | --- |
| | | |
| Checking the plaque in the wind! | The Blue Plaque | Stanley & Julia |
| | | |
| The Cake at the Town Hall | Stanley and Lloyd Grossman | Some of the crowd gathering |
My day started out by visiting Cavern Walks where there is a statue of The Beatles. On this day, like every other 8 December I went along with Bill Logan and other members of Liverpool Beatlescene to place flowers and cards at John's feet on the statue. I lit a peace candle too.
Also today Liverpool and English Heritage paid tribute to John Lennon by erecting a Blue Plaque on the outside of the house in Menlove Avenue where John spent his informative youth living with his beloved Aunt Mimi and Uncle George.

The Blue Plaque scheme honours famous and influential people and the plaque at Menlove Avenue is the first of its kind outside of London. English Heritage intend erecting another 15 plaques in Liverpool during the course of the next 12 months, again honouring famous scousers.
Today the plaque was erected to honour John on this the 20th anniversary of his tragic death outside the Dakota building in New York on 8 December 1980 where he had lived with Yoko and Sean.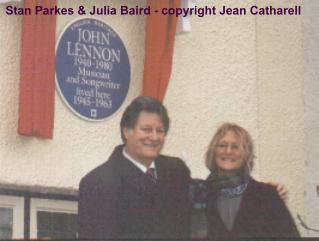 Many hundreds of people had gathered at Menlove Avenue in the cold and rain to take part in the ceremony and many of John's family were present also.
Those of us who had been invited by English Heritage were honoured to be there on this special day.
John's eldest cousin, Stanley Parkes was chosen to unveil the plaque. As Stanley talked of John he became very emotional, which is understandable. Stanley had been creating the family tree and found that they had relatives in Wales and met up with the family a number of years ago. It was lovely to see the Welsh side of the family in Liverpool today.
Stanley made reference to the "hard and unhappy childhood" that John had supposedly experienced and said he was here today to put the story straight. Stanley went on to talk briefly about the loving and close family that surrounded John in his younger days and there was nothing hard or unhappy about it. John's sisters Julia and Jackie were also there as well as other cousins and their children. It was a Stanley family reunion.
Amongst others were The Quarry Men, Bob Wooler, Allan Williams, Joe Flannery, Tony Crame and Billy Kinsley of The Merseybeats, Spencer Leigh, members of other various Merseybeat groups, Bill Harry, Paddy Delaney, Ray McFall, John "Duff " Lowe, Frieda Kelly, Billy Heckle and Dave Jones from Cavern City Tours, Jackie Spencer from LiveApool Tours, Lloyd Grossman representing English Heritage and of course other English Heritage people, and many others too numerous to mention.
From Menlove Avenue everyone headed towards the Town Hall in Liverpool City centre for a reception in the main Ballroom, what a magnificent building this is to hold such a function - and very apt of course because it was here in 1964 that The Beatles came to when they came back to the city for the premiere of A Hard Days Night. Here it was nice to be able to have the chance to chat with members of John's family and I have to say that they are a wonderful family, gracious and giving. The chatted easily with everyone and answered many questions and posed for photographs. It was here that Stanley was asked to cut a cake that was sitting on a table at the front of the hall. The cake was a replica of the Blue Plaque, it was fantastic. Stanley cut the cake and after everyone had had their photograph taken alongside it, it was cut up and distributed to everyone there.

I had expected this day to be a sad and emotional one but I have to say that I thoroughly enjoyed myself and it was clear that although it was in effect a "sad" day, it was also a day to celebrate John's life and thank him for the wonderful legacy he left us in his fabulous music.
He may be gone but he is certainly NOT forgotten. John is out there in the sky, twinkling away in peace.
All pix copyright of Steve Oops" Stephen Bailey - thanks Steve, er Stephen!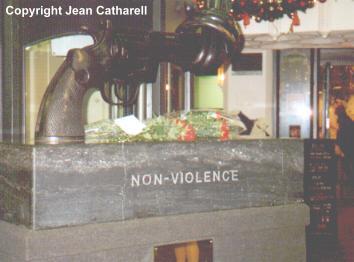 This is the gun with the twisted barrel that Yoko is supporting as the Non-Violence piece of artwork
It is currently in Cavern Walks.