Liverpool Airport is renamed "Liverpool John Lennon Airport"
---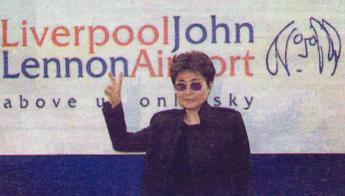 Yoko at Liverpool Airport Monday 2 July 2001
Yoko Ono flew into Liverpool on Monday 2 July 2001 to rename the airport in memory of John. She had been asked to officially unveil the airports new identity and its new logo - Liverpool John Lennon Airport; above us only sky". Yoko said "I am delighted that Liverpool Airport has decided to choose John's name. He would have been very proud."
Yoko also paid a visit to John's childhood school Dovedale Infants School Penny Lane. She said "I am very emotional". She received a guided tour of the school and said she was very glad she came.
Last year Yoko made a substantial donation to the school to help pay for a new playground and on this visit she handed over another cheque to complete the job.
Yoko had brought an old photograph of John when he was at Dovedale which she showed to the pupils.
Yoko was also in Liverpool to receive an honorary degree from Liverpool University at a ceremony at The Royal Liverpool Philharmonic Hall.