Paul McCartney
returns to the place where it all began
---
Paul McCartney Plays The Cavern Club, Liverpool 14 December 1999
---
My ticket
---
My report and some pictures
Well what can I say? I have just experienced the best 50 minutes of my life - I've just seen Paul McCartney play at The Cavern Club in Liverpool and I can't believe it!!!

I left home at 1.00 p.m. to make my way to Mathew Street. When I arrived I met Mark Lewisohn and Allan Kozinn from The New York Times. They were as excited as everyone else.


People had begun to congregate in the street and the world's media were in place catching snippets of interviews with people waiting.

Paul arrived at the back entrance to The Cavern at 2.30 p.m. In the car were Mary and James, no sign of Stella at that time but she was there later.

The atmosphere in the street was electric and the crowds were growing as the hours ticked by. It was a freezing day but hey, who cared, we were about to witness the concert of the millennium - yahoo!!!!

Around 6.00 p.m. they started to distribute the wrist bands and tickets to those lucky enough to have gained entrance. Once we had our wristbands we had to join the queuing system and were not allowed to leave. This security system, I think, was designed to stop people selling their tickets outside (there isn't enough money in the world to buy my ticket!)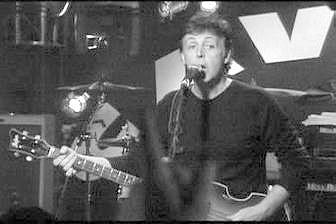 Just 45 minutes later they began letting people into the Club. People's safety was optimum and congratulations to the organisers for a well sorted gig. People were allowed in a few at a time and were given a numbered ticket as they entered. Once downstairs it was announced that people would be allowed into the concert area in numerical order - such a great idea and one used by the BBC. In the first part of the club there was a merchandise table where special t-shirts were on sale. These showed the pic of Paul from Run Devil Run but they also carried the words "The Cavern Club, 14 December 1999" and this made them special. The anticipation was building quickly. There was just enough time to take a look around to see who else was inside and I found myself standing next to Mark Lewisohn and Julia Baird who had her son David with her. Too many people to mention. Everyone was so hyped up and thankfully they didn't keep us waiting too long.

Finally, and with not much fuss, a voice said "Ladies and Gentlemen, with his band Paul McCartney". The whole place shook as people jumped, shouted, screamed and generally let themselves go. I was right at the front with just two people in front of me and suddenly Paul appeared on the stage. I was conscious that I had to try and remember everything from this night and believe me it was difficult. Paul was suddenly in front of me and he looked just amazing dressed in black. He sidled up to the mike and began with Honey Hush. Now I may get the songs in the wrong order here but he went on to do Blue Jean Bop, Brown Eyed Handsome Man, What It Is, No Other Baby, Party, All Shook Up (which they got wrong and started again!), Lonesome Town (and Paul said this is for all lovers, past, present and future), 20 Flight Rock AND, I Saw Here Standing There.


The banter in between songs was great. He asked everyone if they were having a good time and mentioned very briefly that the show was going via the internet. He said things like "It's good here innit?", "It's hot in here but it will get hotter", "We're at the Cavern". He mentioned John in the run up to Twenty Flight Rock and also talked about the lack vision of the City Council in demolishing The Cavern. He pointed out that this wasn't the real Cavern, and said that it lay in a heap of rubble somewhere over there - pointing in the general direction of where The Cavern used to be. He also asked everyone to give a round of applause for Bob Wooler who was in the audience and who Paul had asked to see earlier in the day.

He said it was a long time happening but he was glad to be back.

During one break someone shouted "Do Satisfaction" and Paul looked across at where the voice came from and said "Oh we've got a wag in the audience" - "Watch my mouth - F**k Off" The crowd went wild at this point.

I have to say that when Paul announced he was going to do an old song, placed somewhere between the early and late 60s and suddenly started to sing "I Saw Her Standing There" I thought the building was going to cave in. Everyone in the crowd was singing and it was SO loud. The look on Paul's face said it all. People were singing at the top of their voices and we didn't want it to stop.

He truly enjoyed this gig and it showed on his face. He was in a very humorous and mischievous mood. He constantly picked people out in the crowd and up went his eyebrows in recognition.

I can't really vocalise how I feel after seeing the show because I am stunned right now. I hope that other bits come back as the days go on.

For now I hope you enjoy reading this account - it was a moment in my life that I will savor for a long time to come.

Jean Catharell
---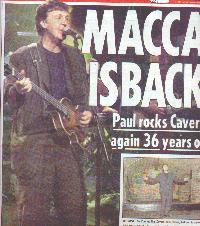 Yesterday and Today!!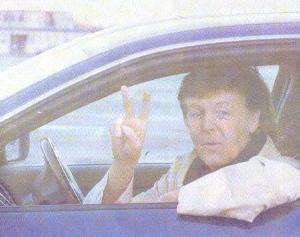 Coming back to where he once belonged!
Sorry about the clipped off report here but I wanted to show you the signed scratch plate on the Hofner bass. It reads "Cool Cavern", Cheers, Paul McCartney, 14 December 1999.