The Linda McCartney Centre
in conjuction with
Liverpool Beatlescene
and
LiveApool Tours
celebrated Paul McCartney's birthday
on
17 June 2000
at
Litherland Town Hall, Liverpool
---
Everyone involved donated their services free of charge, and this included the musicians who provided us with great
Beatles/McCartney music all evening.
During the daytime of 17 June there was a special "Day In The Life" tour of Paul McCartney's Liverpool
by Jackie Spencer of Liverpool Tours.
---
The weather was HOT as the tour bus left the Albert Dock filled with fans from various parts of the world who had come to Liverpool to join the Macca celebrations. This was going to be a very special tour.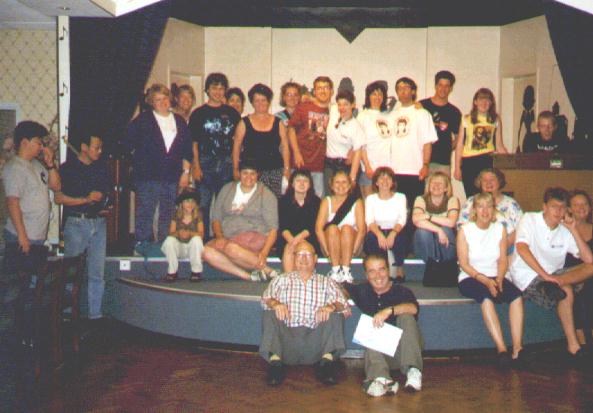 Our group on the Clubmoor stage
We were greeted by the new Management of the club and they treated us extemely well. They had brought out some photos of The Quarry Men and were happy to answer any questions the group put to them We all had a much appreciated drink and were allowed to wonder around the Club taking pictures wherever we went. This was a very special place indeed.
We set off again and visited more Macca places of interest as we headed towards Calderstones Park which had been the scene of Paul's appearance last year when he opened a children's play area that had been named after Linda, and where he planted an
English Oak tree in her memory.
Rory Shapiro with Len Garry - the during lunch entertainment!
Some of the group outside Forthlin Road
The weather was getting hotter and hotter as we made our way to the Walled Garden adjacent to the Mansion house where Jackie and her business partner, Jane had organised a fabulous totally vegetarian buffet lunch and drinks. By this time we had been joined by Quarry Man Len Garry and his wife Sue. They joined us for lunch and Len regaled us with a wonderful rendition of Twenty Flight Rock. Len was accompanied by talented LIPA student Rory Shapiro who brought along her Hofner bass guitar for everyone to see, as well as an acoustic guitar. Rory is a star for the future and she happily took requests from the group. It was an amazing sight to see the group sitting about on the grass in the sunshine singing Beatle songs and having a great time. Sadly we had to leave to continue our tour but this was definitely a highlight of the day for everyone on the tour.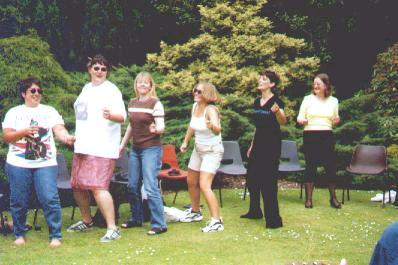 The after lunch entertainment! - Amy Titmus, Alison Mayne, Carol-Anne Lennie,
Janine Edwards and Jackie Spencer
Jane and Jackie having a well deserved rest!
More of the story and other photos
Last updated 18 June 2000